Mineralize skin finishes (MSF) are put on top of foundation or powder foundation and can be used all over the face or as a highlighter. I especially like to use them directly on and above my cheekbones as it adds a wonderful glow that makes my skin look healthy and dewy.
MAC sells MSFs for $28, but if you are lucky and have a CCO nearby you can get them for 30% off of $28--that wouldn't include me :*( --. Anyhoo, I was introduced to a Revlon product that is very similar to the coveted MAC MSF called Revlon Colorstay Mineral Finishing Powder that sells for $14 in drug stores. Of course if you wait for those wonderful "buy one get one free" sales you can snatch one of these puppies for a mere $7. Cha ching! Score! Touchdown!
The Product: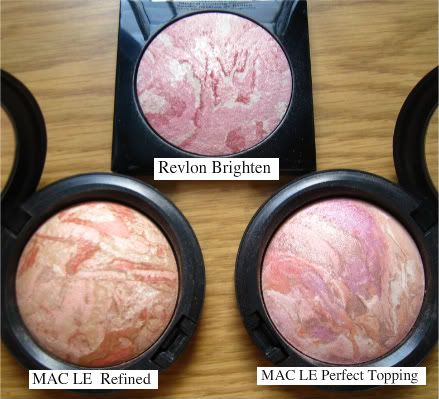 The Swatches:
One lovely tidbit that I came across is that another color, Revlon Pure Confection is a dupe for MAC Lightscapade. You can read a comparison at: http://www.bleucerise.net/?tag=revlon&lang=en
Another product I am hoping to try as I have heard it also dupes MAC MSFs is Prestige Skin Loving Minerals. Has anyone tried this product? If so, I would love to hear more about it!
Disclosure:
All products are purchased by me or received in a swap unless otherwise indicated. I would never allow some ho-hum money hungry company to corrupt my opinion! ... and seriously why would they bother with someone who has less that 20 followers lol.
SKIN: NC25, MUFE 120, BE Fairly Light