This is a thank you to my lovely readers for sharing a love of makeup with me and finding the time to reply to my inquiries, read my posts, and just mingle on the internet jungle. I want to share a bit of my home, Hawaii with you all so please enjoy!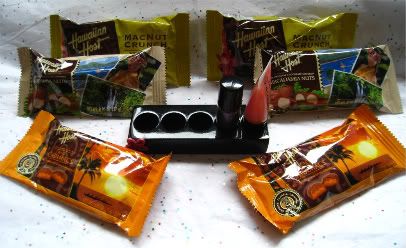 1)(2) packages of each chocolate. One for yourself and one to share with a loved one.
2)A lovely lipstick holder designed and crafted by the lovely Teresa. I met Teresa on MUA and she included this as an extra in a swap. I don't own any lipsticks so I would rather this go to someone who does. It holds MAC lipsticks perfectly. She has a plethora of holders available for sale at: TeresaEllis.etsy.com. Items pictured inside holder not included in prize.
Here is a picture of awesome work she creates. This is not included in the giveaway: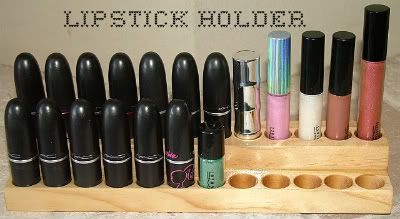 The giveaway is open internationally. All current 16 readers are automatically entered and have been given a random number from 1-16.
To enter:
1) +1 entry: Must be a follower and comment below on what makeup products or food items you are interested in from Hawaii. *Hint* a future giveaway may include these items. I may also add additional items if there is interest.
2) +1 entry: Make a blog post or link on your sidebar of your blog about my giveaway. Please be sure to include a link to your post/blog in your comment.
3) -500 entries if you Twitter about it. Twitter is way too stalker friendly and seriously who on earth would be interested in what I am doing every second of the day :)
4) Winner will be notified in a blog post and will have 5 days to claim their prize. They must also be willing to let me know how they liked the prize.
Deadline:
April 16th 11:59pm Hawaii time.