These e/s have been discontinued and replaced by dome-like e/s that is disappointing. I lucked out and purchased these for $1.50 each (with free shipping) on ebay.
The Product:
The Swatches: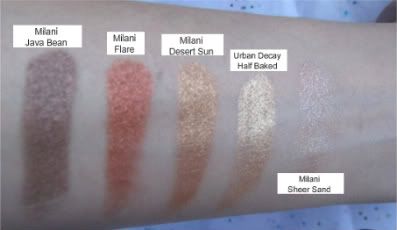 Swatched without primer on nc25, MUFE 120 skin.
PROS:
The pigmentation on Java Bean, Flare, and Desert Sun are amazing! I am not a fan of Sheer Sand as its, well, too sheer. The colors are much prettier in person and they all have a fine shimmer to them.
CONS:
The packaging is horrible! I cannot figure out how to depot the e/s and the e/s is so fragile! I dropped one of the e/s and the shadow broke! I also remember shipping one in the mail and it arrived in pieces! :*(
Overall, you can't beat the price for such lovely colors!
All products were purchased by me and I am not in any way affiliated with a related makeup company or organization.